Kaitian environmental protection line of dalian city a new chapter of cooperation
Time:2016-06-30    Read:923 Time
On June 17, 2016, at the invitation of dalian HuaYuanKou economic zone management committee,
Mr Kaitian environmental protection, President and board chairman Mr Ming-qiang ye Zhou Boping to visit dalian HuaYuanKou, which received warm welcome by HuaYuanKou economic zone management committee.
HuaYuanKou wen-zhi Yang rate, director of the economic zone working committee secretary of the management committee meet kaitian.
Yang, director of the rate of people welcome the kaitian chairman and President
The first visit to the yellow sea coast, lakes, rivers, surface water pollution and river sludge disposal problem for further communication.
Industrial, enterprise rising pollution to soil and surface water into the river, the sea, to the ecological environment and biological caused
serious damage, ultimately affect human health. Rivers and lakes pollution is around the corner, looking for a practical, once and for all
the governance path is the focus of the present work.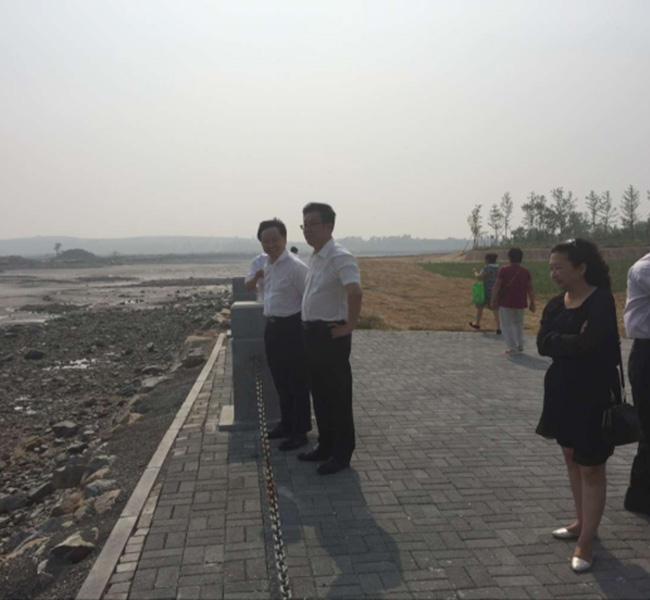 Visit to the yellow sea coast
Subsequently, HuaYuanKou visited dalian economic management committee and kay day line power battery co.,
LTD. Bick is one of the world's leading international collection of lithium ion battery research and development, production,
sales for the integration of high-tech enterprises, application solutions covering light electric vehicles, electric passenger cars and electric buses,
energy storage and backup power supply, electric tools and other fields. Promotion of clean energy has great positive effect to the environment.
From the perspective of environmental protection, for the development and application of new energy conversation.
Visit the company
By bick company comes out, immediately rushed to byd factory. Automobile exhaust is one of the city of PM2.5 as well as the main source of CO2,
how effective governance of car tail gas, also become one of the major environmental problems to be solved. Both sides from the car engine,
fuel, new energy and governance of tail multiple aspects, such as mutual consultation improvement measures, to improve urban air quality.
Kay day "PM2.5 urban governance technology" good governance effect, how to take temporary solution and effect a permanent cure,
both sides have technology exchanges and discussions.
Byd factory
17th afternoon, kaitian and HuaYuanKou industrial park was investigated. HuaYuanKou industrial park is kay day group cooperation
to establish trust construction, environmental protection and dalian neusoft project investment is mainly engaged in environmental governance,
environmental technology consulting services, environmental protection, social and public services, and other special equipment manufacturing.
HuaYuanKou industrial park of marks the daitian official in dalian.
Visit HuaYuanKou industrial park
Finally, the two sides visited HuaYuanKou Japanese landing site. By the national culture, referring to enterprise culture construction and
development of culture is the enterprise based on this, but also the source of enterprise's development. Good enterprise culture can effectively
promote the staff's working enthusiasm, improve work efficiency, expand enterprise internal and external influence. Can say,
no culture of enterprise is lack of the tree, will eventually die away.
Visit HuaYuanKou Japanese landing site and took a photo
18, the mayor of dalian XiaoChengFeng in civic hotel meeting with the leaf, the chairman of a line, as specific problems in
the cooperation project consultation with relevant departments. HuaYuanKou Yang Guangzhi, director of the economic zone
management committee, the municipal government secretary-general LuoDongSheng see meeting. During the meeting, mayor xiao details about kay day environmental protection in the investment plan.
Dalian attaches great importance to environmental protection industry development, adhere to the enterprise as the main body,
take the market as the guidance, working hard to blaze a clean, efficient, safe and sustainable development.
Both sides to reach a good cooperation intention, actively explore in the industrial park, industrial workshop environment governance,
beautiful rural construction and waste incineration, sewage treatment in areas such as ways to cooperate. The mayor said shaw,
governments at all levels will be kay day in dalian development provide more high quality, efficient service.
Leaves the chairman YeMingqing said: "kaitian environmental protection established based on the development strategy of dalian,
radiation northeast, we will be here more project layout, driving the development of cooperative enterprises at home
and abroad to invest in the city."
Previous: Already the first