Big news | Hunan Aerospace & Kaitian environmental became a strategic partner
Time:2016-06-30    Read:973 Time
Hunan Aerospace CO.,LTD (referred to as "Hunan Aerospace") and Kaitian environmental Technology Co.,
Ltd. (stock code: 835 815) in Changsha signed investment agreement on June.16th.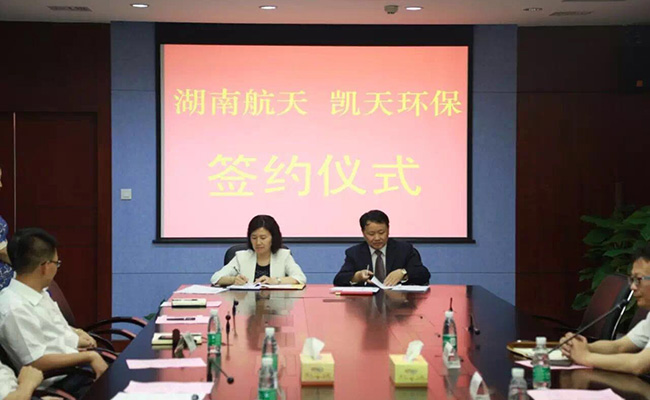 Kaitian announcement, Hunan Aerospace intends to pay ¥61.93 million in cash to acquire Kaitian
¥550 million shares from existing shareholders ,and ¥675.6 million in cash to subscribe
for Kaitian ¥60 million shares. After the subscription and acquisition, Hunan Aerospace
will have 43.67% of the Kaitian shares, and becoming Kaitian largest shareholder. Follow-up will be renamed " Aerospace Kaitian Environmental Technology Co., Ltd." Kaitian will become the first public company and new third of Hunan Aerospace.
Hunan Aerospace controlling shareholder is China Aerospace Science and Industry
Corporation (referred to as "Aerospace Science and Industry"), Aerospace Science and
Industry units directly under the SASAC and it is the large state-owned high-tech central direct management enterprises. Formerly known as Department of Defense fifth Academy was established in October 1956.
Kaitian cooperation with Hunan Aerospace has important strategic significance. On the one hand,
Kaitian and Hunan Aerospace in new materials industry, equipment manufacturing industry can form a good synergy,
promoting joint development. On the other hand, Kaitian can relying on the existing industrial base,
make full use of aerospace systems resources, to use government resources and market a comprehensive coordinative effect,
to expand air pollution control, environmental control plants, heavy metals management, water pollution control,
etc. Create a set of planning and design, equipment manufacturing, engineering, operations services in one
of the environment intelligence ecosystem management center, to build environmental governance, integrated service provider,
into a environmental systems leader and for the construction of ecological civilization and make due contributions in China